Back to
Pawpaw Page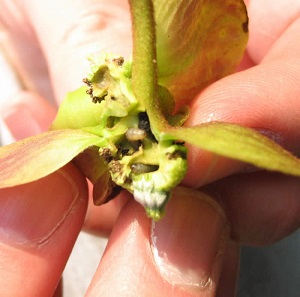 Fig. 1



Tarponia plummeriana

larva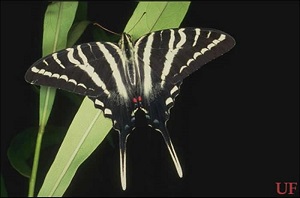 Fig. 2

Adult summer form of the zebra swallowtail,

Eurytides marcellus

(Cramer)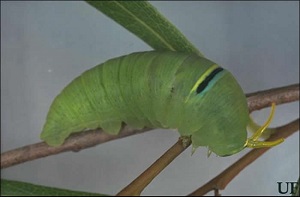 Fig. 3

Full-grown larva of zebra swallowtail,

Eurytides marcellus

(Cramer), with osmeterium extruded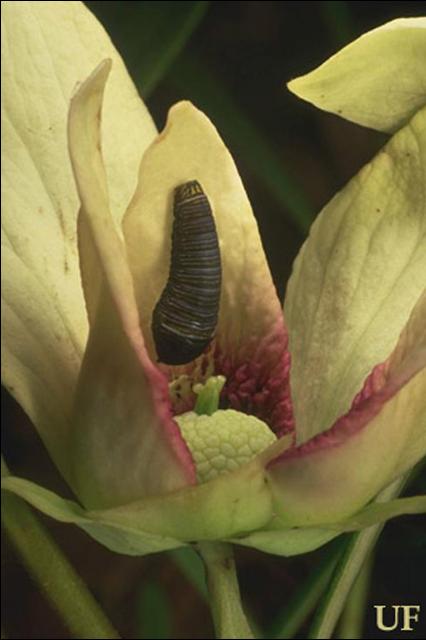 Fig. 4

Young larva of zebra swallowtail,

Eurytides marcellus

(Cramer), in

Asimina angustifolia

Raf. flower


In its native habitat the pawpaw has few pests of economic importance.


---

Pawpaw Peduncle Borer
Talponia plummeriana

The worst pest is

Talponia plummeriana

, the pawpaw peduncle borer, a small moth larva about 5mm long that burrows in the fleshy tissues of the flower, causing the flower to wither and drop. In some years this borer is capable of destroying the majority of blossoms.


---

Zebra Swallowtail Butterfly
Eurytides marcellus (Cramer)

Other pests include

Eurytides marcellus

, the Zebra Swallowtail Butterfly, whose larvae feeds exclusively on young pawpaw foliage, but never in great numbers. The adult butterfly is of such great beauty that this should be thought more a blessing than a curse. Sometimes the fruit surface may be covered with hard black patches that are caused by a fungus infection, but seldom does this have any effect on flavor or edibility.



Further Reading


Zebra Swallowtail, Pawpaw Butterfly, Kite Swallowtail,

Ajax Eurytides marcellus

(Cramer) from the University of Florida

pdf 4 pages



Bibliography

1 Bordelon, Bruce. "Growing Pawpaws."

hort.purdue.edu

. Purdue University Cooperative Extension Service. Reviewed Apr. 2001. Web. 23 Feb. 2015.

Photographs

Fig. 1 Peterson, Neal. Talponia plummeriara larva. N.d. petersonpawpaws.com. Web. 11 Apr. 2015.
Fig. 2 Butler, Jerry F.

Adult summer form of the zebra swallowtail

, Eurytides marcellus (

Cramer

). N.d. University of Florida.

edis.ifas.ufl.edu

. Web 26 Feb. 2015.
Fig. 3 Butler, Jerry F.

Full-grown larva of zebra swallowtail,

Eurytides marcellus (

Cramer

), with osmeterium extruded. N.d. University of Florida.

edis.ifas.ufl.edu

. Web 26 Feb. 2015.
Fig. 4 Butler, Jerry F.

Young larva of zebra swallowtail

, Eurytides marcellus (

Cramer

),

in

Asimina angustifolia

Raf. flower

. N.d. University of Florida.

edis.ifas.ufl.edu

. Web 26 Feb. 2015.

Published 12 Apr. 2014 LR. Last update 29 Dec. 2016 LR