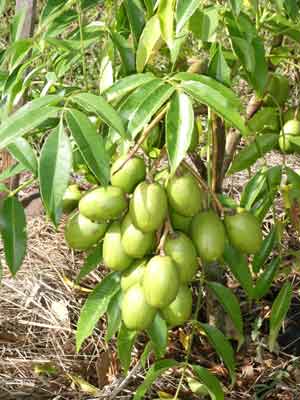 Fig. 1
Dwarf Ambarella (

Spondias dulcis

) one year old seedling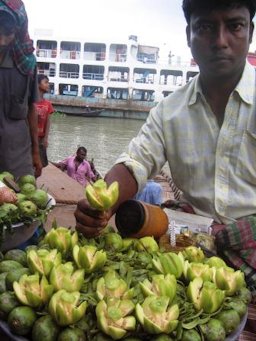 Fig. 2
Picture shows the fruit of

Spondias dulcis

with its characteristic fibrous pit (The fruit is not Spondias mombin which lacks these radial fibers)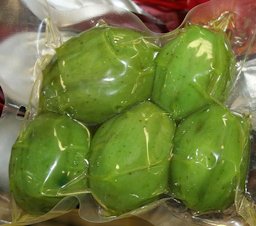 Fig. 3

Preserved ma-kok (Thai), sweet and sour with chili.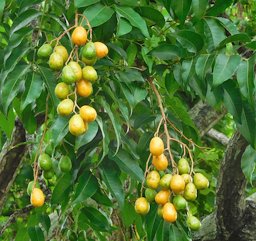 Fig. 17

Yellow Mombin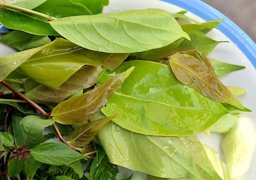 Fig. 18

Young leaves of yellow mombin
Bai makok (Thai) is the leaf of the

Spondias mombin

, a relative of the cashew. Taste is sour and slightly bitter.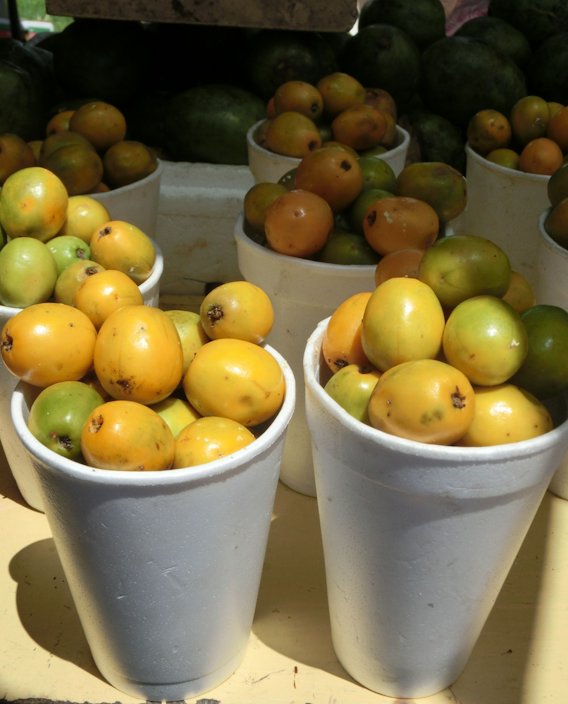 Fig. 19

The edible fruit of Spondias mombin as sold on streets in Santo Domingo, Domincican Republic. The fruit is called Jobo here.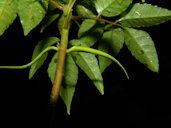 Fig. 20

Yellow mombin mature tree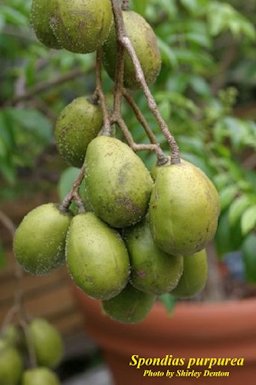 Fig. 30



Spondias purpurea

, unripe red mombin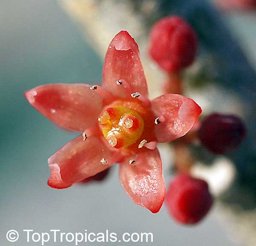 Fig. 31

Spondias purpurea L.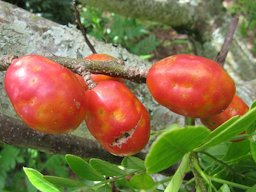 Fig. 32

Spondias purpurea L.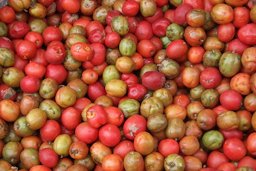 Fig. 33

Red mombins



Fig. 43

Marimbondo, nome cientifico:

Polistes canadensisus

em uma flor de Seriguela (

Spondias purpurea

)

Ambarella, Golden apple - Spondias dulcis Forst.
---
| | | | |
| --- | --- | --- | --- |
| | | | |
| Fig. 7 | Fig. 8 | Fig. 9 | Fig. 10 |
| | | |
| --- | --- | --- |
| | | |
| Fig. 14 | Fig. 15 | Fig. 16 |



Common name


Otaheite apple, Tahitian quince, Polynesian plum, Jew plum and golden apple. In Malaya it is called great hog plum or kedondong; in Indonesia, kedongdong; in Thailand, ma-kok-farang; in Cambodia, mokak; in Vietnam, coc, pomme cythere or Pommier de cythere. In Costa Rica, it is known as juplón; in Colombia, hobo de racimos; in Venezuela, jobo de la India, jobo de Indio, or mango jobo; in Ecuador, manzana de oro; in Brazil, caja-manga. 8
Synonyms


Spondias cytherea

Sonn.


Relatives




Spondias tuberosa, S. pinnata, S. acida, S. novoguineensis

, and

S. borbonica

, cashew (

Anacardium occidentale

), mango (

Mangifera indica

), and pistachio (

Pistacia vera

)


Family


Anacardiacae


Origin


Society Islands of the South Pacific


Height


40-50ft (12-15m)


Spread


Open spreading canopy; 40-50ft (12-15m)


Plant habit


Erect, stately usually stiff in appearance; symmetrical


Growth rate


Fast


Trunk/bark/branches


light grey-brown bark: graceful, rounded branches


Leafves


Deciduous; large, glossy, 8-12in (20-30cm); pinnately compound; 10-18 leaflets; 2.5-3in (6-8cm)


Flowers


Whitish, small, inconspicuous; large, loose terminal panicles, 8-12in. (20-30cm); bisexual and self-fertile; March-April


Fruit


Orange-yellow; clusters of 3-20; globular to ovoid; drupe; tough skin; yellow pulp, fibrous; single large seed; 2-3in. (5-8cm)


Season


November through May


Light requirement


Full sun


Soil tolerances


All types of soil, including oolitic limestone in Florida, as long as they are well-drained


PH preference


5.5-7.5


Drought tolerance


Mature trees are drought tolerant


Flood tolerance


Not tolerant


Salt tolerance


Poor


Cold tolerance


30°F (-1°C)


Plant spacing


50-60ft (15-18m) unless provisions are made to control tree size


Roots


Potable water can be derived from the roots in emergency


Pest resistance


Few pests; nutritional problems on highly alkaline soils


Invasice Potential

*
None reported


Known hazard


The fruit may present a choking hazard if the core and fibers are not properly removed. Contact with foliage and sap may cause dermatitis in some individuals. 10

Fruit
Fruits at maturity have a yellow to golden-orange skin and an orangery-yellow pulp surrounding a single large spiny seed. Flavour varies from acid to sweet and most people eat this as a fresh fruit; however, it does make excellent preserves, jellies or sauces. 2
The stone, or seed casing, has spines that stick out into the flesh and complicates the use of the fruit. Seeds are produced in 5 small cavities in the stone. Only 1 or 2 of the seeds will be developed. 3
The fruits usually drop off when they turn yellow. I have found that they can be picked green and they will turn yellow in about 5 days at room temperature. The taste is reminiscent of pineapples. The fruit can be used in jams, jellies and sauces when ripe, and when unripe, in pickles or relishes. A very tasty jam can be made. 3



Propagation


Propagation of this tree is very easily accomplished by rooting large hardwood cuttings. Superior varieties can be air-layered also. Seedlings often produce variable fruit, so most people prefer to propagate ambarella by hardwood cuttings or by air-layering. 2
Thomas Firminger says that the seeds do not germinate readily, and that plants "are usually obtained by grafting upon seedlings of S.

mangifera

." P. J. Wester has found that the species can be shield-budded in the same manner as the avocado; he says, "Use nonpetioled, slender, mature, but green and smooth budwood; cut large buds with ample wood-shield, 1 1/2 to
1 3/4 inches long; insert the buds in the stock at a point of approximately the same age and appearance as the cion." 6



Further Reading


The Ambarella from the Archives of the Rare Fruit Council of Australia, inc.
The Ambarella from W. Popenoe's book Manual Of Tropical And Subtropical Fruits
Hog Plum from the Archives of the Rare Fruit Council of Australia, inc.
Ambarella from Julia Morton's book Fruits of Warm Climates


---
Yellow Mombin, hog plum - Spondias mombin Jacq.
---
| | | | |
| --- | --- | --- | --- |
| | | | |
| Fig. 21 | Fig. 22 | Fig. 23 | Fig. 24 |
| | | | | |
| --- | --- | --- | --- | --- |
| | | | | |
| Fig. 25 | Fig. 26 | Fig. 27 | Fig. 28 | Fig. 29 |



Common names


Hog plum in the Caribbean Islands. In Jamaica, it is also known as Spanish plum, or gully plum. In Malaya, it is distinguished as thorny hog plum; in Ghana, it is hog plum or Ashanti plum. Among its Spanish names are caimito, chupandilla, ciruela agria, ciruela amarilla, ciruela de jobo, ciruela del pais, ciruela de monte, ciruela loca, cirueld mango, ciruela obo, cuajo, guama zapotero, hobo de monte, hubu, jobillo, jobito, jobo, jobo arisco, joboban, jobo blanco, jobo de Castilla, Jobo de perro, jobo de puerco, jobo espino, jobo espinoso, jobo gusanero, jobo hembra, jobo jocote, jobo negro, jobo roñoso, jobo vano, jocote, jocote amarillo, jocote de chanche, jocote dejobo, jocote jobo, jocote montanero, jocote montero, jovo, marapa, obo de zopilote, palo de mulato, noma, tobo de montana, obo and uvo. In Portuguese, it is called acaiba, acaimiri, acaja, acajaiba, caja, caja mirim, caja pequeno, cajazeiro, and caja miudo. In French, it is mombin franc, mombin fruits jaunes, mombinier, myrobalane, prune mombin, prune myrobalan, or prunier mombin. Local names in Surinam are hoeboe, mompe, monbe, mopé and moppé. Amazonian Indians call it taperiba or tapiriba (fruit of the tapir). 4


Synonyms




Spondias aurantiaca

Schumach. & Thonn

.; Spondias dubia

A. Rich.;

Spondias graveolens

Macfad.;

Spondias lutea L.; Spondias oghigee G. Don; Spondias pseudomyrobalanus

Tussac

12


Family


Anacardiacae


Origin


Tropical America (Puerto Rico and the Virgin Islands)


Height


Up to 50ft (15m)


Spread


Open spreading canopy; 50-60ft (15-18m)


Plant habit


Erect; stately


Trunk/bark/branches


Trunk buttressed, thick; fissured bark; lower branches whorled 4


Leaves


Semi-deciduous; pinnately compound;8-12in (20-30cm); 10-18 leaflets; 1-1.5in (2.5-4cm); hairy yellowish petioles 4


Flowers


Small, inconspicuous; large, loose terminal panicles; bisexual and self-fertile


Fruit


Yellow; clusters of 12+; globular to ovoid; drupe; tough skin; yellow pulp, fibrous; single large corky stone


Season


August through November 4


Light requirement


Full sun


Drought tolerance


Mature trees are drought tolerant


Salt tolerance


Not tolerant


Plant spacing


50-60ft (15-18m) unless provisions are made to control tree size


Pest resistance


Fruit commonly infested with fruit-fly larvae


Invasice Potential

*
None reported



Propagation


The tree may be propagated by seeds but it is usually grown from large cuttings which root quickly. 4



Further Reading


Yellow Mombin from Julia Morton's book Fruits of Warm Climates
The Yellow Mombin from W. Popenoe's book Manual Of Tropical And Subtropical Fruits


---
Red Mombin -
Spondias purpurea
L
---
| | | | |
| --- | --- | --- | --- |
| | | | |
| Fig. 34 | Fig. 35 | Fig. 36 | Fig. 37 |




Fig. 41
Fungal rot of fruit
Fig. 42



Common names


English, red mombin, Spanish plum, hog plum, scarlet plum; purple plum in the Virgin Islands; Jamaica plum in Trinidad; Chile plum in Barbados; wild plum in Costa Rica and Panama; red plum, as well as noba and makka pruim in the Netherlands Antilles. Spanish names include: ajuela ciruela; chiabal; cirguelo; ciruela; ciruela agria; ciruela calentana; ciruela campechana; ciruela colorada; ciruela de coyote; ciruela de hueso; ciruela del país; ciruela de Mexico; ciruela morada; ciruela roja; ciruela sanjuanera; hobo; hobo colorado; ismoyo; jobillo; jobito; jobo; jobo colorado; jobo francés; jocote; jocote agrio; jocote amarillo (yellow form); jocote común; jocote de corona; jocote de iguana; jocote iguanero; jocote tronador; jocotillo; pitarillo; sineguelas (Philippines); sismoyo. In Portuguese, it is called ambu; ambuzeiro; ameixa da Espanha; cajá vermelha (yellow form); ciriguela; ciroela; imbu; imbuzeiro; umbu, or umbuzeiro. In French, it is cirouelle, mombin rouge, prune du Chili, prune d'Espagne, prune jaune (yellow form) or prune rouge. 9


Synonyms




Spondias mombin

, L.;

Spondias myrobalanus

L.;

Spondias dulcis

G. Forster, var.

macrocarpa

(Engler) Engler;

Spondias macrocarpa

Engler;

Spondias purpurea

Linnaeus, var.

munita

I. M. Johnston;

Spondias purpurea

Linnaeus, var.

venulosa

Engler


Family


Anacardiacae


Origin


Tropical America


Height


Up to 25ft (7.5m)


Spread


Open spreading canopy; 25-30ft (7.5-9m)


Plant habit


Shrub; low-branched or spreading tree


Trunk/bark/branches


stout, stiff branches; trunk thick; broad crown


Leaves


deciduous; dark green; pinnately compound, 4.75-10in (12-25cm); 5-19 nearly sessile leaflets; 0.5-1.5in (1-4cm)


Flowers


Tiny, deep red/purple; small, inconspicuous; male, female and bisexual; small unbranched racemes; no fertile pollen; no viable seeds


Fruit


Yellow, red or purple; single or clusters of 2-3; globular to ovoid; drupe; tough skin; yellow pulp, fibrous; single large rough, fibrous seed; some selections have irregular shape


Season


June through October


Light requirement


Full sun


Soil tolerances


Grows over a wide variety of soils; well drained


Drought tolerance


Mature trees are drought tolerant


Salt tolerance


not tolerant


Cold tolerance


Protection from cold winds; 30°F (-1°C)
Wind resistance
Not resistant


Plant spacing


25-30ft (7.5-9m) unless provisions are made to control tree size


Pest/disease resistance


Fruit flies commonly infest the ripe fruits. In Florida, the foliage is subject to spot anthracnose caused by

Sphaceloma spondiadis.

9


Invasice Potential

*
None reported


Known hazard


In the Philippines, it is said that eating a large quantity of the fruits on an empty stomach may cause stomac hache. 9



Fruit


The fruit may be eaten fresh or may be boiled and dried, in which latter condition it can be kept for several months. When fresh it has a subacid spicy flavor somewhat resembling that of the cashew, but less aromatic. Some varieties are sour, and others have very little flesh; the best are pleasantly flavored and have about the same amount of flesh and seed as a very large olive. 5
Somewhat plumlike, the fruits, borne singly or in groups of 2 or 3, may be purple, dark- or bright-red, orange, yellow, or red-and-yellow. They vary from 1 to 2 in (2.5-5 cm) in length and may be oblong, oval, obovoid or pear-shaped, with small indentations and often a knob at the apex. The skin is glossy and firm; the flesh aromatic, yellow, fibrous, very juicy, with a rich, plum-like, subacid to acid flavor, sometimes a trifle turpentiney; and it adheres to the rough, fibrous, hard, oblong, knobby, thick, pale stone, which is 1/2 to 3/4 in (1.25-2 cm) long and contains up to 5 small seeds. 9



Propagation


Trees introduced into Florida are all female trees, and seeds from fruit trees in Florida are not viable and will not grow. This limits propagation strictly to vegetative means - either air-layering or hardwood cuttings. 4
The red mombin is found in increasing numbers throughout South Florida because of the increasing Latin population which is quite familiar with it and has great appreciation for its quality. 4
Cuttings take root so readily that large limbs, cut and inserted in the ground as fenceposts, will often develop into flourishing trees. P. J. Wester recommends that cuttings 20 to 30 inches long, of the previous season's growth (or even older wood) should be set in the ground to a depth of about 12 inches, in the positions which the trees are to occupy permanently. The rainy season is the best time to do this. 5



Pruning


Pruning of the branches to cause numerous shoots to form along the main branches. Pruning can be done every year, since the flowers bud on the current year's branches. The experience of producers in Mexico is that pruning increases the size and weight of the fruit. 11



Further Reading


Red Mombin from the Archives of the Rare Fruit Council of Australia, inc.
The Red Mombin from W. Popenoe's book Manual Of Tropical And Subtropical Fruits
Purple Mombin from Julia Morton's book Fruits of Warm Climates
Spanish plum, red mombin from Neglected Crops: 1492 from a Different Perspective


---

Related Species

The

imbu,

Spondias tuberosa

Arruda, is native to dry areas of Brazil. It has enlarged roots and is extremely resistant to drought. It has been introduced to other areas but is not well-known. The ovoid fruit is 3½-4 cm (1½ in.) in length and greenish-yellow in color when ripe. It is eaten fresh and made into jellies or desserts and is much esteemed in its native areas. It does not grow well in southern Florida, evidently because of poor adaptation to the soil and climate. 1
Of the several fruits belonging to the genus

Spondias

which are grown in various parts of the tropics, the imbu, although relatively little known, is perhaps the best. It merits cultivation wherever climate and soil are suited to its growth. 7

The Imbu from W. Popenoe's book Manual Of Tropical And Subtropical Fruits

The amra,

Spondias pinnata L.F. Kurz

(

S. mangifera

Willd.), native to tropical Asia, grows and fruits well in southern Florida, but is not well-known. It bears ovoid fruit fruit 4-5 cm (1½-2 in.) in length, in terminal clusters of 10-15 fruit. The fruit is extremely sour, even when completely ripe. It is used mostly for cooking although some people like to eat it fresh. 1



Spondias borbonica

Baker is native to the islands of Mauritius and Reunion. It makes a large tree with deeply furrowed bark, similar in appearance to the yellow mombin. A few trees have been growing in Florida for many years but have never borne flowers and fruit. 1


---
Further Reading



Spondias Species from the Archives of the Rare Fruit Council of Australia
Spondias in Florida from the University of Florida (Archived) pdf 8 pages
Spondias Species Botanical Art


List of Growers and Vendors


Bibliography

1 Campbell, Carl W. and Sauls, Julian W. "

Spondias

Species". rfcarchives.org.au. Archives of the Rare Fruit Council of Australia. Florida Cooperative Extension Service/Institute of Food and Agricultural Sciences/University of Florida Fruit Crops Fact Sheet - Spondias in Florida FC-63. [Archived]. May 1994. Web. 27 Jan. 2015.
2 Joyner, Gene. "The Ambarella." rfcarchives.org.au. Archives of the Rare Fruit Council of Australia. Tropical Fruit News. Volume 30 Number 12, Dec. 1996. Aug. 1997. Web. 22 Apr. 2015.
3 Oram, Ann. "Hog Plum." rfcarchives.org.au. Archives of the Rare Fruit Council of Australia. RFCA Capricornia Newsletter. May 1987. Web. 22 Apr. 2015.
4 Joyner, Gene. "The Red Mombin." rfcarchives.org.au. Archives of the Rare Fruit Council of Australia. Tropical Fruit News, Nov. 1993. Mar. 1994. Web. 22 Apr. 2015.
5 Popenoe, Wilson. "The Red Mombin." chestofbooks.com. Manual of Tropical and Subtropical fruits. 1920. Web. 23 Apr. 2015.
6 Popenoe, Wilson. "The Ambarella." chestofbooks.com. Manual of Tropical and Subtropical fruits. 1920. Web. 23 Apr. 2015.
7 Popenoe, Wilson. "The Imbu." chestofbooks.com. Manual of Tropical and Subtropical fruits. 1920. Web. 23 Apr. 2015.
8 Morton, J. "Ambarella." hort.purdue.edu. Fruits of warm climates, p. 199-201. 1987. Web. 23 Apr. 2015.
9 Morton, J. "Purple Mombin". hort.purdue.edu. Fruits of warm climates, p. 242-245. 1987. Web. 23 Apr. 2015.
10 Boning, Charles.

Florida's Best Fruiting Plants: Native and Exotic Trees, Shrubs and Vines

. Sarasota, Florida: Pineapple Press, Inc. p. 22. 2006. Print.
11 Cuevas, J. Axayacatl. "Neglected Crops : 1492 from a Different Perspective". hort.purdue.edu. J.E. Hernándo Bermejo and J. León (eds.). Plant Production and Protection Series No. 26. FAO, Rome, Italy. p. 111-115. 1994. Department of Plant Science, Ethnobotanical Unit, UACH, Mexico. Center for New Crops and Plants Products, Purdue University. Web. 26 Apr. 2015.
12 "

Spondias mombin

."

theplantlist.org

. The Plant List: A Working List of All Plant Species. Web. 28 May 2016.

Photographs

Fig. 1 Johnson, Ray. "

Dwarf Ambarella

(Spondias dulcis) one year old seedling. 2009. rfcarchives.org.au. Web. 21 Apr. 2015.
Fig. 2 Chowdhury, Faizul Latif .

Picture shows the fruit of

Spondias dulcis

with its characteristic fibrous pit (The fruit is not

Spondias mombin

which lacks these radial fibers

). 2009. flickr.com. Under (CC BY-SA 3.0). Web. 26 May 2016.
Fig. 3 ChildofMidnight at English Wikipedia.

Preserved ma-kok, sweet and sour with chili

. 2013. flickr.com. Under (CC BY-SA 3.0). Web. 26 May 2016.
Fig. 4,5,7,15,16 Kwan. "Spondias dulcis (

Golden Apple, Great Hog Plum, Kedongdong

)." natureloveyou.sg. Web. 26 Apr. 2015.
Fig. 6 Pinus.

Cóc Tahiti.

2012. commons.wikmedia.org. Under (CC BY-SA 3.0). Web. 26 May 2016.
Fig. 8 Mattos.

Cacho de cajarana

. 2014. flickr.com. Under (CC BY-SA 3.0). Web. 26 May 2016.
Fig. 9 Anagoria.

Polynesian-plum

(Spondias dulcis). 2014. commons.wikmedia.org. Dong Xuan Center, Berlin, Germany. Web. 24 Apr. 2015.
Fig. 10 Rulkens, Ton.

Not common in Mozambique. It is only found in the northern coastal zone of Cabo Delgado province. It produces fruits in a period of the year when few other fruits are produced, which is a definite advantage.

2013. flickr.com. Under (CC BY-SA 2.0). Web. 27 May 2016.
Fig. 11 Luiz Roberto Kozikoski.

Cajamanga descascada

. commons.wikmedia.org. Web. 27 May 2016.
Fig. 12 Mamun2a. Amra seed. 2006. flickr.com. Under (CC BY-SA 2.5). Web. 26 May 2016.
Fig. 13 Tracey Slotta.

Seeds of

Spondias dulcis. 2010. flickr.com. USDA-NRCS PLANTS Database. Web. 27 May 2016.
Fig. 14 Forest & Kim Starr. Spondias dulcis (

leaves

).

Maui, Enchanting Floral Gardens of Kula

. 2007. flickr.com. Under (CC BY-SA 3.0). Web. 27 May 2016.
Fig. 17 Schmidt, Marco. Spondias mombin,

fruiting

.

Near Fô, Burkina Faso

. 2004. commons.wikmedia.org. Under (CC BY-SA 2.5). Web. 22 Apr. 2015.
Fig. 18 Takeaway.

Bai makok is the leaf of the

Spondias mombin,

a relative of the cashew

. 2011. commons.wikmedia.org. Under (CC BY-SA 3.0). Web. 23 Apr. 2015.
Fig. 19 Reith, Martin. "

The edible fruit of

Spondias mombin

as sold on streets in Santo Domingo, Domincican Republic. The fruit is called Jobo here

." 2014. commons.wikmedia.org. Under (CC BY-SA 4.0). Web. 23 Apr. 2015.
Fig. 20,21,24 Aiguilar, Reinaldo. Spondias

mombin L

. 2014. flickr.com. Vascular Plants of the Osa Peninsula, Costa Rica. Web. 23 Apr. 2015.
Fig. 22,23,25,26,27,29 Leao, Tarciso. Spondias mombin,

caja

. 2004. flickr.com. Web. 23 Apr. 2015.
Fig. 28 Starr, Forest and Kim. Spondias mombin

(Hog plum, jobo, yellow mombin)

. 2007. starrenvironmental.com. Enchanting Floral Gardens of Kula, Maui. Web. 24 Apr. 2015.
Fig. 30 Denton, Shirley. Spondias purpurea. N.d. plantatlas.usf.edu. Atlas of Florida Vascular Plants. Institute for Systematic Botany, University of South Florida, Tampa. Web. 23 Apr. 2015.
Fig. 31,34,37,40 Spondias purpurea

L

. N.d. toptropicals.com. Web. 24 Apr. 2015.
Fig. 32 Dios, Eduardo.

Ciruela

(Spondias purpurea). 2009. flickr.com. La Turumilla, Zarumilla, Perú. Web. 24 Apr. 2015.
Fig. 33 Elveoflight.

Jacote

. 2014. commons.wikmedia.org. Antigua, Guatemala. Web. 26 Apr. 2015.
Fig. 35,36 Aiguilar, Reinaldo. Spondias mombin

L.

tree. 2010. flickr.com. Vascular Plants of the Osa Peninsula, Costa Rica. Web. 23 Apr. 2015.
Fig. 38 Minic, Cristóbal Alvarado. "

Ciruelas de huesito

(Spondias purpurea

L

.)." flickr.com. Cagua, Estado Aragua, Venezuela. Web. 24 Apr. 2015.
Fig. 39 Barros, Fabio. "

Foto de frutos de Seriguela

(Spondias purpurea)." 2009. commons.wikmedia.org. Web. 23 Apr. 2015.
Fig. 41 Nelson, Scot.

"Red mombin

(Spondias purpurea): Fungal rot of fruits." c. 2007. flickr.com. Near Hilo, Hawaii. Web. 24 Apr. 2015.
Fig. 42 "

Species Distribution Map

." N.d. plantatlas.usf.edu. Atlas of Florida Vascular Plants. Institute for Systematic Botany, University of South Florida, Tampa. Web. 23 Apr. 2015.

* UF/IFAS Assessment of Non-native Plants in Florida's Natural Areas
** Information provided is not intended to be used as a guide for treatment of medical conditions.

Published 22 Apr. 2015 LR. Last update 28 May 2016 LR