Pruning Palm Trees
---



From Landscape Plants Website




by Edward F. Gilman, Professor, Environmental Horticulture Department, IFAS, University of Florida




Contrary to popular belief, the palm in Fig. 1 is not a properly pruned palm. It provides little shade, is unattractive, and will be weaker
than a full-canopied palm like the one in Fig. 2. A properly fertilized and pruned palm like the one in Fig. 2 should have a round canopy
with green leaves right down to the bottom. Consumers must be educated that palms are supposed to have round crowns, not feather-duster crowns. 2


Fig. 1
An overpruned sabal palm
Fig. 2
A healthy, properly pruned palm

| | | | |
| --- | --- | --- | --- |
| | | | |
| Fig. 3 | Fig. 4 | Fig. 5 | Fig. 6 |

Fig. 3. No pruning is needed on this cabbage palm because all fronds are green.
Fig. 4. Only the dead brown fronds in the lower part of the canopy and the dead flower stalks in the center of the canopy need to be removed from this healthy cabbage palm. Be careful not to nick the petiole bases of the fronds that remain when cutting flower stalks. If you do, they are likely to break in half in the near future.


Fig. 5. No pruning is needed on these healthy Canary Island date palms. Lower fronds are green with little to no chlorosis.

Fig. 6. Lower fronds are dead and can be removed to improve appearance. Leave the green fronds intact. Removing green fronds from the lower portion of the canopy removes photosynthetic area and can cause stress and narrowing of the trunk. 1




Self-pruning palms



Not all palms require pruning. There is a large group of palms that have crownshafts—a region of smooth, usually green, tightly clasping leaf bases at the top of the gray trunk (Fig. 6). Palms with crownshafts should never need pruning if properly fertilized. A healthy old leaf will be completely green one day, completely orange-brown the second day (Fig. 7), and completely brown the third day, when it should fall off by itself. This is natural senescence. Half-dead old leaves that remain on the palm for months at a time are usually deficient in potassium (K) (

http://edis.ifas.ufl.edu/ep269

) (Fig. 8) and should be fertilized (http://edis.ifas.ufl.edu/ep261) to prevent this problem. 2


Fig. 7.

Hyophorbe

lagenicaulis

(bottle palm) showing crownshaft, the distinct smooth green region of the stem above the gray wood.
Fig. 8. Naturally senescing older leaf of

Veitchia

sp.
Fig. 9. Leaf of areca palm (

Dypsis lutescens

) with severe K deficiency. 2



Effects of Pruning on Palms



Pruning, or more importantly, excessive pruning, can affect palms in a number of ways. If palms are overpruned, the reduction in canopy size results in reduced photosynthetic capacity. In the short term, some studies have shown that overpruning can result in greater leaf production rates, but the resulting leaves were smaller in size than those on unpruned palms (Endress et al. 2004; Mendoza et al. 1987; Oyama and Mendoza 1990). If this practice is repeated frequently, the palm may also develop a smaller trunk diameter (Fig. 10). 2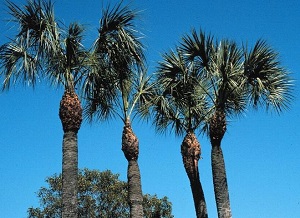 Fig. 10


Hurricane-cut

Traditionally, arborists have been asked to prune palms prior to the arrival of hurricane season. "Hurricane-cut" palms have most of their leaves cut off, leaving only a tuft of the youngest leaves intact (Fig. 14). The intent was to reduce wind resistance in the palm, thereby protecting it from wind damage. However, observations of palms after the severe hurricane seasons of 2004 and 2005 in Florida showed that these "hurricane-cut" palms were more likely to have their crowns snapped off than those with fuller crowns (Fig. 11–12). This may be because the youngest leaves left on these overpruned palms have not hardened off to the extent that older leaves have and lack the support of the older leaf bases (Pfalzgraf 2000). 2


| | |
| --- | --- |
| | |
| Fig. 11 | Fig. 12 |
| | | | | |
| --- | --- | --- | --- | --- |
| | | | | |
| Fig. 13 | Fig. 14 | Fig. 15 | Fig. 16 | Fig. 17 |



Fig. 11. Unpruned coconut palms one block away after hurricane Wilma

Fig. 12. Overpruned coconut palms after hurricane Wilma

Fig. 13. An overpruned "hurricane-cut" coconut palm (

Cocos nucifera

)

Fig. 14. These cabbage palms were recently over-pruned. Too many lower fronds were removed. This can stress the palm making it more susceptible to insect and disease attack.
Fig. 15. Over-pruned palms, such as this cabbage palm, might flower more in response to removing too many live fronds.
Fig. 16. Date palms are often over-pruned in this fashion. This type of pruning stresses the palm by removing too much photosynthetic capacity from the canopy. In humid climates where these palms are now (turn of the century) being planted with regularity, this added stress could cause the palm to decline prematurely.
Fig. 17. In addition to looking goofy, over-pruning eventually causes a narrowing of the trunk on some palms at the point where the fronds were removed. This same palm tree now has a narrowing of the trunk 6 feet from the ground 9 years after this harsh pruning. 1



Other Reasons to Prune






Fig. 18. These Canary Island date palms are showing severe yellowing or chlorosis on the lower fronds. Correct this problem with appropriate nutrition or other appropriate cultural practices before pruning. Removing these yellow lower fronds now could cause yellowing to progress up to the upper fronds and could kill the palm.

Fig. 19. The cause of the yellow lower fronds on this Canary Island date palm is probably a deficiency in magnesium and/or potassium. Correct this problem before pruning the palm.

Fig. 20. Many palms are pruning at transplanting to aid in transportation. Severe pruning like that shown above is efficient because it allows more palms to be placed on the flat bed trunk. There is one study on palm pruning at transplanting and it showed that for cabbage palm, removing many fronds at transplanting improved survival, but only if irrigation was applied infrequently after planting. Pruning provided no improvement if palms were irrigated regularly after planting.



| | | | |
| --- | --- | --- | --- |
| | | | |
| Fig. 21 | Fig. 22 | Fig. 23 | Fig. 24 |



Fig. 21. This is not a bad pruning job on reclinata date palms. Lower dead fronds were removed and all green fronds remain on the palm.

Fig. 22. Many lower green fronds were removed on these healthy Phoenix reclinata (reclinata date palm). Unfortunately, this unnecessary practice is common in many regions where palms are grown. I think many people feel they need to do something to their palm tree.
This is not it.
Fig. 23. Brahea palm makes a wonderful tree for many landscapes. The flower display is one of its outstanding features. This palm needs no pruning because there are no dead fronds.
Fig. 24. This Brahea palm was recently pruned. Some live foliage was removed from the lower canopy which was not necessary for the health of the palm. Palms are pruned mostly for people reasons, not for the health of the palm. Leave as much live foliage on the palm as is practical.




What should be pruned from Palms?




Removal of completely dead leaves and flower and fruit stalks from palms is never a problem (Fig. 25). However, half-dead or discolored lower leaves are a symptom of K or other nutrient deficiencies (http://edis.ifas.ufl.edu/ep273) (Fig. 26). Despite their unattractive appearance, these leaves should be left on the palm as they are providing K in the absence of sufficient K in the soil. It is preferable to treat the K deficiency with effective fertilizers (http://edis.ifas.ufl.edu/ep261) to prevent these older leaves from becoming deficient than to cut them off, only to have the symptoms return.

If petioles of otherwise healthy leaves have become severely kinked or damaged due to wind (Fig. 27) or other mechanical injuries, there is no problem with removing the affected leaves. However, if a few kinked leaves are all that remain on a palm following a severe windstorm, then it may be advisable to retain these damaged leaves as a source of photosynthates for the palm until new leaves can be produced.



Fig. 25.

Coccothrinax

sp. with dead leaves and fruit stalks that should be removed


fig. 26. Severely K-deficient spindle palm (Hyophorbe verschafeltii) showing extensive orange translucent spotting, leaflet tip necrosis, and reduced canopy size

Fig. 27. Wind-damaged Bismarck palm (Bismarckia nobilis) with kinked petioles on living leaves that could be removed

There is no evidence that removal of living flower or fruit stalks (Fig. 28,29) causes any harm to palms. In fact, studies have shown that removal of flower stalks results in increased leaf production rates since carbohydrates that would have been diverted into the production of flowers and fruits are now available for leaf production. Removal of flower stalks also prevents the production and drop of messy fruit that can eventually sprout into unwanted seedlings. In public areas, coconut palm fruit drop is a major liability concern, and it is much easier to remove small flower stalks than heavy clusters of fruit (Fig. 30).



Fig. 28. Flowers of queen palm (S

yagrus romanzoffiana

)


Fig. 29. Fruit clusters on Carpentaria palm (Carpentaria acuminata)

Fig. 30. Clusters of coconuts on coconut palm (Cocos nucifera) that could create potential liability problems in public areas





Further Reading


Pruning Palms from the University of Florida pdf 8 Pages
Pruning Palm Trees from the University of Florida pdf





Back to


Coconut Page
Edible Palms Page