Pindo Palm: Jelly, Wine and Good Eats
Butia capitata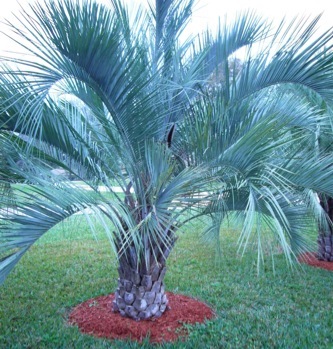 Pindo Palm, Jelly Palm

Soon it will be time to go to the cemeteries. My visits are not memorial but rather culinary: I've got jelly, wine and nibbling on my mind.
Pindo Palms are a common landscape plant in Florida cemeteries. In fact, they are a very common landscape plant in southern climes and most owners are glad to give you the fruit from them, and surprised to know they are edible.
Banana yellow, sweet and tart at the same time, Pindo Palms are the lost fruit, once the stable of every southern yard that didn't dip below 12º F degrees or so. Now it's considered a tree that creates a mess on lawns. Indeed, one of the common complaints about the Pindo Palm is that it produces too much fruit… Think about that: Only a nation with yards of decapitated grass and an obesity epidemic would think a plant produces too much food.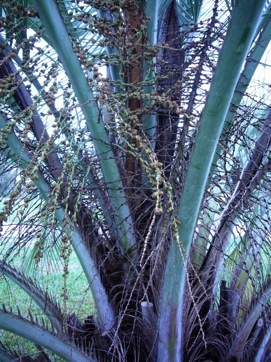 Look for short spines on each side of the frond

The fruit of Pindo Palms are often called palm dates and were used to make jelly because they contain a good amount of pectic. That same pectin makes for a cloudy wine, the other common use and name for the plant, Wine Palm. Its botanical name is

Butia capitata

(BEW-tee-uh kap-ih-TAY-tuh.) Butia is a Portuguese corruption of an aboriginal term meaning "spiny."

Capitata

is Latin, meaning "with a dense head" referring to the seed heads (see photo.) The name Pindo comes from the town of Pindo in southern Brazil where the palm is native. Its common local name is Yatay. Butia's habitat is grasslands, dry woodlands and savannahs of South America. It ranges across northern Argentina, southern Brazil, Paraguay and Uruguay. Besides Florida, it's a popular landscape plant throughout the Gulf and southeastern Atlantic coastal regions and northern California, places that are subject to only occasional frosts. It is reported in isolated microclimes in North Carolina, Washington DC and British Columbia.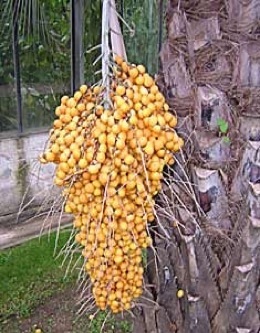 Ripe Pindo Palm fruit

When I was a foreign exchange student teaching in London back in the Dark Ages I took a trip to Cornwall and the Scilly Islands. I still have pictures of Pindo Palms growing there. I suspect the fruit of the

B. capitata

was made into jelly more often than pies et cetera because eating it is similar to eating sugar cane, in that it is tasty but very fibrous. Some people can swallow the fiber and have no tummy problems, in others it can upset stomachs. So, chewing the fruit and spitting out the fiber is accepted practice. Try only one at first, they don't agree with everyone. One writer said they have a "

terrific taste that starts out like apple and transforms to tart tropical flavors as it tantalizes the tongue

." To me they taste like a banana and a nectarine put together. Of course, once you have juice from the palm many things can be made from it and no southern home should be without a jelly palm. They are inexpensive, hardy, showy and bountiful. Incidentally, the seeds are about 45% oil and are used in some countries to make margarine. The core of the tree is also edible, as like the cabbage palm, but that also kills the tree so reserve that for palms only slated for development execution.
Lastly, don't confuse the fruit of the Queen Palm with the Pindo Palm. While the resemblance is superficial, and the Queen Palm usually much taller, they make a similar stalk of fruit and lose them the same way. The Queen Palm's fruit when ripe is always orange to red in color. The Pindo Palm fruit, however, is always yellow, and when very ripe very yellow but not orange.




Green Deane's "Itemized" Plant Profile






Identification

: An evergreen tree growing to 20 by 12 feet, a long spike of green fruit — see upper right — turing yellow then dropping, ripe fruit very fragrant. Note the spines on the fronds in the upper right picture. Fronds are very long.



Time of Year

: Evergreen, fruits in late spring in Florida.



Environment

: Landscape plant that likes full sun,sandy well-drained soil but needs moisture, grows fuller if in partial shade.



Method of preparation

: Fresh fruit off the tree, juice made into jelly and wine




Pindo Wine


Pindo Wine is very tropical, takes a long time, and can have clarity issues because of the natural pectin.

About 1.2 kg of ripe pindo fruit
1 Campden tablet
1.2 kg sugar dissolved in 1 liter boiling water and cooled
½ tsp tannic acid (optional – slightly alters the taste and lightens the color of the wine)
½ tsp yeast nutrient
general purpose winemaking yeast

For wine: Cover the fruit with water then use clean hands and rub out the seeds. Mash up the fibrous fruit pulp. Add crushed Campden tablet and leave, covered for 24 hours. Make up the wine starter. Add the pectinase dissolved in a little water and leave for several hours. Add the sugar syrup, tannic acid and yeast nutrient and make up to 5 liters. Add the yeast. Stir 3 times per day for 6 days before sieving into a demijohn. Rack and add sugar as necessary. A final specific gravity of about 1.020.


Pindo Jelly

One would think it would be easy to make jelly out of the fruit of a plant called the "jelly palm." The answer is yes and no. It is called the jelly palm because the fruits, in a good year, have enough natural pectin to make jelly, barely. So, one should add pectin. The other issue is the seeds. You can cook the fruit with the seeds still in them but I think that can impart a woody flavor to the jelly and reduce its ability to jell (I think cooking the seeds release some of the edible oil and that affects the process.) On the other hand, cutting the fruit off the seed is a chore. Friends make the job go quicker. You can cut the pulp off or try to rub the seed out, your choice.

Since three cups is the standard for Sure Jell, start with six cups of ripe fruit. Cut and scrape as much fruit as you can off the seeds. One would like to say cut the fruit out but it hangs on so tenaciously to the pulp you really have to cut the fruit off the seed. Starting with six or more cups should yield you three cups of cleaned fruit. When you have three cups, cover with three cups of water. Bring to boil and cook until you have about 3.5 cups of infused juice. Yes, measure it. When you have those 3.5 cups, filter the juice and make jelly per the recipe on the box for three cups, adding two or three cups of sugar, depending upon taste. Of course, you also don't have to filter it, and can use three cups as is, the texture and clarity will be slightly affected, but it is just as wholesome.





Back to


Pindo Palm Page