F
rom LycheesOnline.com
by Krystal Folino and Bill Mee
'Hak Ip'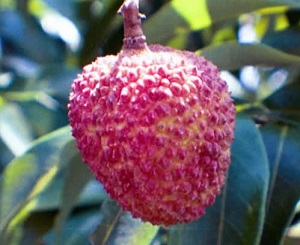 Fig. 1
'Hak Ip' close-up

The 'Hak Ip' is a relatively recent introduction into South Florida. This fruit embodies almost every desirable characteristic in a lychee: superb flavor, large size, small seed and nice coloration.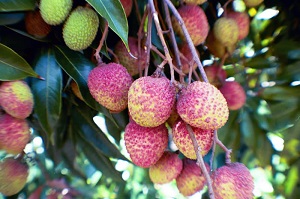 Fig. 2
'Hak Ip' lychee fruit ripening

This 'Hak Ip'' fruit has some fruit that is almost ripe ready to be picked (Fig. 2). Other fruit on the cluster is still small and green. In our opinion the 'Hak Ip' is not as sweet as the 'Brewster' at peak ripeness; however that does not detract from the delicious flavor. The skin of the 'Hak Ip' is thicker than the 'Brewster' and it retains more bumpiness even at the end of the ripening process.


Fig. 3
'Hak Ip' left, 'Brewster' right
Fig. 4
Cross section of 'Hak Ip' left, 'Brewster' right

Notice the size of a ripe 'Hak Ip' fruit (left) compared to a ripe Brewster (right). Depending on the amount of rainfall, the 'Brewster' fruit can grow as large as 'Hak Ip' and 'Emperor'. Both are very delicious, but the Haak yip seems to be rated the best by most everyone who tastes one. The only problem being that Haak yips are very shy bearing trees.

This photo (Fig. 4) shows a cross section of the same two fruit. The 'Hak Ip' is on the left and the 'Brewster' is on the right. You will note the amount of flesh in the 'Hak Ip' and the chicken tongue seed.

It is easy to understand why growers raced to plant out groves of 'Hak Ip' after this variety became available.

In nearly ten years our 'Hak Ip' trees have not produced much in the way of fruit; however experience has demonstrated that it can take many years for a lychee tree to come into full production and several factors such as fertilization, soil pH, moisture and seasonal climate variations can influence the productivity of lychee trees.



Back to

Lychee Page
Bibliography

Folino, Krystal and Bill Mee. "Hak ip Variety/Cultivar of Lychee."

lycheesonline.com

. Last update 12 May 2002. Web. 25 Jan. 2014.

Photographs

Fig. 1,2,3,4 Folino, Krystal and Bill Mee.

Hak ip Variety/Cultivar of Lychee

. N.d.

lycheesonline.com

. Web. 4 June 2014.

Published 25 Jan. 2014 LR. Last update 16 June 2014 LR