Starfruit Chicken with Lemon Sofrito
Serves four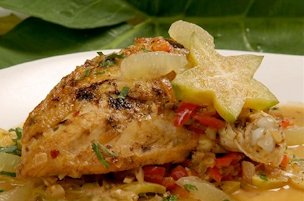 3 large lemons
6 Tbs. olive oil
2 medium shallots, diced
1 Tbs. minced garlic
1 tsp. ground cumin
1 tsp. dry oregano
¼ Tbs. dried red chili flakes
1 medium red pepper, diced
1 cup dry white wine
1 Tbs. Kosher salt
½ tsp. freshly ground black pepper
4, 8 oz. chicken breasts
2 large starfruit, thinly sliced, reserving 5
stars for garnish
1 Tbs. flat leaf parsley, chopped



Instructions



To prepare the lemons: Using a rasper, zest one lemon, placing the zest in a small dish and covering it with film. Peel and segment the second lemon, reserving for garnish. Juice the last lemon, along with the zested lemon, reserving the juice.



To prepare the sofrito:

In a large, heavy-bottomed skillet, warm 3 Tbs. of the olive oil. Add the shallots and cook until translucent. Stir in the garlic, cumin, oregano and chili flakes. Add the red peppers, white wine and lemon juice; bring the mixture to a simmer. Let the sofrito cook together until it is reduced by half the volume and season with salt and pepper.



To prepare the chicken

: In another large, heavy-bottomed skillet warm the remaining oil. Season the chicken with salt and pepper, along with the lemon zest. Brown the chicken well on both sides. Add the sofrito to the pan with the starfruit and the chicken. Lower the heat to medium and cook covered for 25 minutes.



To serve

: Remove the chicken from the pan to a colorful serving platter. Spoon sofrito around chicken, finishing with reserved lemon segments, starfruit and chopped parsley.





Coconut Pancakes with Starfruit


Serves six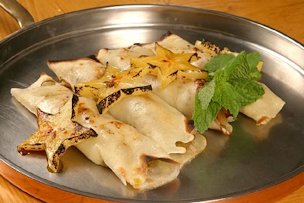 4 oz. all-purpose flour
1 Tbs. superfine sugar
1 pinch salt
1 large egg
5 oz. coconut milk
1 Tbs. melted butter, plus extra for brushing
½ tsp. vanilla extract
½ tsp. grated lemon zest

For the filling:
8 Tbs. fresh grated coconut
3 Tbs. golden raisins
6 oz. light brown sugar
¼ tsp. ground cardamom
¼ tsp. grated nutmeg
2 large starfruit, sliced




Instructions





To make the pancakes

: Sift the flour, sugar and salt into a bowl, make a well in the center and add the egg, coconut milk and 1 Tbs. of melted butter. Whisk to a smooth batter, then stir in the vanilla and lemon zest. It should have a thin pouring consistency. Cover and let rest for 1 hour. For the filling: In a small stainless steel bowl, mix together coconut, raisins, ½ cup brown sugar, cardamom, nutmeg, and starfruit slices.



To cook

: Heat a non-stick 6-inch frying or crepe pan. Whisk the batter and adjust with water if too thick. Pour in enough batter to coat the bottom thinly, tilting the pan to spread it. Cook for 1 minute until lightly browned underneath, then flip over and cook the other side, for just 30 seconds. Turn out and make the remaining pancakes in the same way.



To finish and serve

: Divide the filling between the pancakes, reserving three starfruit slices, and roll up each individually. Place on serving plate and brush with remaining melted butter. Place fresh sliced starfruit on top of pancakes. Sprinkle generously with remaining brown sugar and place under hot broiler to caramelize the starfruit.





Back to


Carambola Page