Carambola (Star Fruit) Recipes
Averrhoa carambola






Carambola Chicken Rice (serves 8)



2 Tbsp olive oil
½ cup diced red bell pepper
½ cup chopped scallions
2 tsp mashed garlic
6 medium carambola
1 cup heavy cream
salt, black pepper and paprika to taste
Garnish: minced coriander (cilantro) leaves
4 cups cooked rice
4 pounds cooked chicken breast, deboned, cut into bitesize pieces

In a medium pan, heat olive oil. Sauté red bell pepper, scallions, garlic and star fruit over medium low heat until tender (about 8 minutes). Stir in heavy cream and season with salt, pepper and paprika. Cook over medium low heat for 8 minutes. In a large cooking pot, combine this mixture with the rice and chicken and heat until serving temperature (about 5 minutes). Garnish with coriander if desired.




Carambola Upsidedown Cake



2 cups flour
1 cup sugar
1 ½ tsp baking powder
½ tsp salt
½ cup butter, softened
3 eggs
2 tsp white wine
1 cup chopped coconut
2 cups carambola, sliced, seeded and cooked until tender
3 Tbsp brown sugar
3 Tbsp softened butter

Preheat oven to 350 degrees F. In a small bowl, combine the flour, sugar, baking powder and salt. In a large bowl, cream the butter, eggs and wine. Stir in the flour mixture, blending thoroughly. Stir in the coconut. Cream the brown sugar and remaining butter.

Spread evenly on the bottom of a 9 inch heavy skillet. Top with the cooked carambola slices, then carefully pour the batter over the fruit. Bake for 30 minutes or until a toothpick comes out clean. Cool slightly and invert on to a plate. Garnish with whipped cream if desired.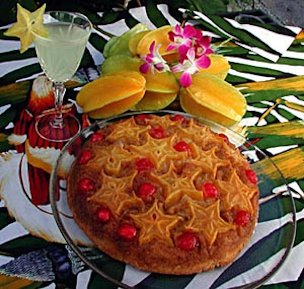 Carambola-Cranberry Sauce


(makes about 5 cups)
This recipe can be served as a compliment to your Thanksgiving feast.

4 ripe carambolas
2 1/3 cups orange juice
2 cups sugar
1 12-ounce bag cranberries (fresh or frozen)
2 Tbsp fresh ginger, grated
2 allspice leaves (or several allspice seeds in a cheesecloth bag)
1 small cinnamon stick
Agar-agar or Arrowroot to thicken

Trim ends of carambola. Set one aside. Slice the remaining three carambolas into ½ inch crosswise slices, remove seeds and dice. Combine orange juice, agar-agar and sugar in a heavy large saucepan. Bring to a boil, stirring until sugar dissolves. Reduce heat and simmer 5 minutes stirring occasionally. Add carambolas, cranberries, allspice, cinnamon stick and ginger and cook until berries begin to pop, stirring occasionally, about 8 minutes. Remove from heat.

Cool, pour into serving dish. Remove some of the liquid off the top if necessary. Peel away any brownish skin from the remaining carambola and slice into ¼ inch crosswise slices. Arrange in a decorative pattern on top of sauce. Refrigerate. Serve either cold or at room temperature.

It is also delicious added to seltzer water as a spritzer or to white cabernet sauvignon wine as an easy tropical sangria. It can also be served over pound cake.

Carambola Avocado Salad (serves 4)



Torn lettuce leaves
2 tomatoes, sliced
½ red onion, sliced very thin
1 avocado, sliced
2 carambolas, sliced

On each of four salad plates, arrange a bed of lettuce. Layer the remaining ingredients in the order listed. Drizzle with lemon vinaigrette or your favorite dressing.




Dried Carambola



Wash the carambolas, then remove ends and the edges of the ribs. Slice ¼ inch thick. Spread in a single layer on the trays of a food dehydrator. Dry at 135°F until dry but still flexible. Do not dry until crisp. Package in plastic freezer bags and keep frozen until ready to use.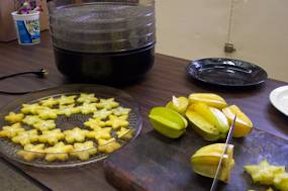 Carambola Bread



2 cups flour
1½ tsp baking powder
½ tsp salt
1 cup sugar,
½ cup butter, softened
3 eggs
1 tsp white wine
2 cups carambola, mashed
1 cup chopped coconut

Preheat oven to 350° F. In a small bowl, combine flour, baking powder and salt. In a large bowl, cream sugar and butter, and then cream in eggs. Blend in white wine and carambola. Stir in flour mixture, blending thoroughly and then stir in coconut. Spoon into a well-greased 8½ x 4½ x 2½ inch bread pan. Bake for 50 minutes or until a toothpick comes out clean.





Back to


Carambola Page