From Fairchild Tropical Botanic Garden
Virtual Herbarium Database
The Maya Fruit: Canistel
Pouteria campechiana
Mayan youths gather mature, green canistel fruit from dense evergreen trees planted near their homes. The fruit are placed in the cooled ashes of the fire and left to ripen to a golden yellow. In the Yucatan the canistel remains a common home garden fruit. Its flesh retains a bright yellow color when heated or frozen, making it attractive in natural sorbets and baked products.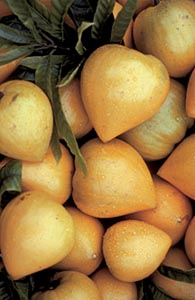 The canistel,

Pouteria campechiana

, is a member of the Sapotaceae (mamey sapote family). It is an evergreen tree native to Central America. The canistel is highly adaptable in Florida where it is grown in some home gardens. The tree is easy to grow with minimal care because it is quite wind resistant, and tolerates sandy or limestone soils.





Canistel or "egg fruit" has similar characteristics to cooked pumpkin. It is delicious when mixed with milk products, because it doesn't sour the milk like many fruits do. It has a consistency of boiled egg-yolk. The yellow flesh is relatively firm and mealy with a few fibers. The fruit matures from November through March. Canistel can be eaten fresh or used in pies, milkshakes, pudding and bread. The fruit are picked when mature (yellow-color) and can be stored at room temperature for 3 to 10 days. If you wish to store the flesh you can freeze it for up to 6 months. Before freezing, mix the flesh with sugar. Canistel are rich in vitamin C, calcium, minerals and phosphorous; fat-low.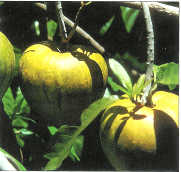 One cup fresh pulp contains:



•139 calories
•29 g protein
•0.13 g fat
•37 g carbohydrates
•0.10 g fiber
•27 mg calcium
•37 mg phosphorous
•58 mg vitamin C


'Bruce,' selected in South Florida, will provide ample harvests of 3/4 pound fruit.

Canistel Recipes



Back to
Canistel Page




Copyright © 2007 Virtual Herbarium - All rights reserved