From Virtual Herbarium Database, Fairchild Tropical Botanic Garden
by Noris Ledesma, Curator of Tropical fruit
Black Sapote Recipes
Diospyros digyria



Tropical Black Sapote Pudding



1 cup black sapote mashed in brandy
Ladyfingers or other plain cake
1 cup whipped cream

Line a deep glass dish with ladyfingers, or two layers of thinly cut sponge or plain cake to form a shell about a half inch thick. Fold brandied black sapote on top of the cake. Chill two hours. Top with whipped cream.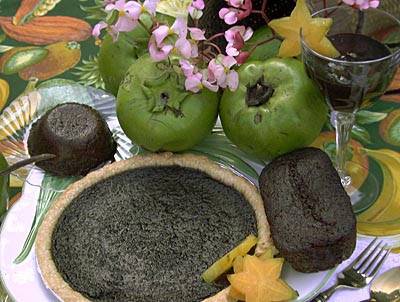 Mexican "Unchocolate" Bread



½ cup milk
1 cup sugar
¼ cup butter
2 eggs
2 cups mashed ripe black sapote
¼ tsp vanilla
1½ cups flour
1/8 tsp ground cinnamon
1/8 tsp ground cloves
1/8 tsp baking soda
¾ cup chopped nuts
3 tbsp chocolate powder (optional)

Blend sugar and butter. Blend in eggs. Stir in milk, black sapote pulp and vanilla. Beat together about ten minutes. In a separate bowl, mix flour, cinnamon, cloves and baking soda. Stir into liquid ingredients. Mix in chopped nuts. Spoon into a greased 8 ½ x 4 ½ x 2 ½ inch loaf pan, making sure to leave ¾ inch at the top to allow the bread to rise.

Bake 45 minutes at 350°F.




Black Sapote Pie



½ cup sugar
1 tsp ground cloves
½ tsp salt
2 eggs
1½ cup mashed black sapote
1½ cup milk
1 tsp vanilla
1 unbaked 9" deep-dish pie shell

Mix sugar, salt and cloves in small dish. Beat eggs in large bowl. Stir in black sapote and sugar/clove mixture. Gradually stir in milk and vanilla. Pour into pie shell. Bake 15 minutes in a preheated 425°F oven; turn temperature down to 350°F and bake about 30 minutes more or until firm. Serve with whipped cream.





Back to


Black Sapote Page




Copyright © 2007 Virtual Herbarium - All rights reserved