Excerpts from "An Espalier for Every Garden" from Taunton's Fine Gardening. Dec. 1999
by Peter Thevenot

Espalier designs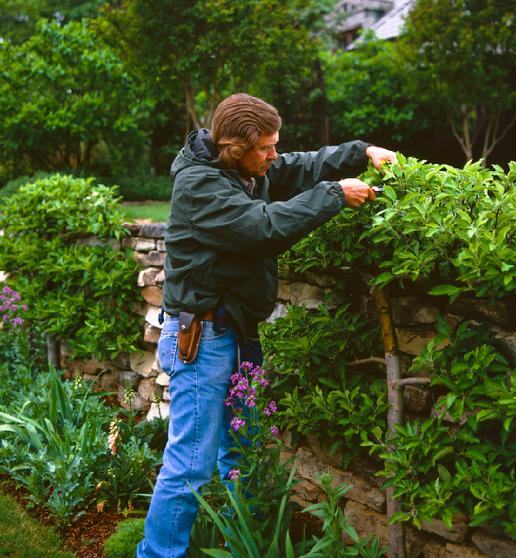 Peter Thevenot, Espalier Master


Peter Thevenot's garden

The cordon, the candelabra, and the Belgian fence are three designs that the author has used effectively in his garden. The cordon and the candelabra are the easiest to master.




Candelabra



The candelabra is a more dramatic espalier. Its height and design command attention (photo, above). One adorns the entryway to our house, and serves as the focal point in our side garden. It is 80 inches wide and stands 81/2 feet tall, which is typical for this design. The space between each branch is 16 inches. This spacing may look too wide when the plant is young, but it fills in quickly as the tree matures.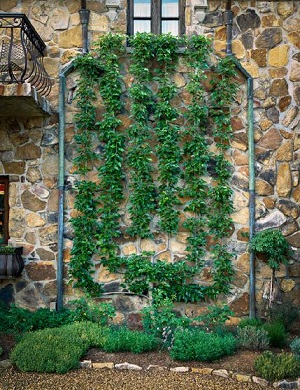 Fig. 1
Candelabra design
Fig.2

Two tier candelabra spring

Fig. 3

Fruiting three tier candelabra



Belgian Fence



Belgian Fence Technique

To divide our driveway from our side garden, we planted a Belgian fence. This living wall functions as a see-through screen. Its real interest occurs in winter when its bare branches display its unique shape. Light and air pass through the diamond shaped gaps in all seasons, and this design blends into our landscape well without seeming as big and bulky as a stone wall or a wooden fence would.


Fig. 4




Belgian fence in spring

Fig. 5




Belgian fence in spring

Fig. 6




Belgian fence



Horizontal Cordon



The cordon, with its horizontal tiers, is the most common espalier design because it is so versatile. When used as a focal point, cordons typically measure 6 feet tall by 6 feet wide, but their design can be modified to fit into any space.


Fig. 7




Three tier cordon

Fig. 8




Fruiting three tier cordon

Fig. 9




Four tier cordon
Fan
Fig. 10




Fan design

Fig. 11




Fan design
Tunnel
Fig. 12




Tunnel design

Fig. 13




Tunnel design

Fig. 14




Tunnel/arbor
Illustrations by Beth Thevenot
Fig. 15




Candelabra 2 tier

Fig. 16




Candelabra 3 tier

Fig. 17




Candelabra oblique
Fig. 18




Horizontal cordon 3 tier

Fig. 19




Horizontal cordon 4 tier

Fig. 20




Horizontal cordon 5 tier
Fig. 21




Parisian goblet

Fig. 22




Arch cordon

Fig. 23




Circle and arch cordon
Fig. 24




Fan

Fig. 25




Belgian fence
Other Images



Fig. 26




Espaliered horizontal fruit tree

Fig. 27




Espaliered S-shape fruit tree

Fig. 29




Special cordon fruit tree







Fig. 30




Espalier fruit tree at Standen, West Sussex, England

Fig. 31




Belgian fence UBC Botanical Garden

Fig. 32




Espalier UBC Botanical Garden




Further Reading


The art of Espalier Video with Peter Thevenot ext. link
River Road Farms an Espaliered Tree Nursery Tour Video
Espalier Systems for Fruit Trees by Flemming's Nursery

pdf







Back to


Espalier Page

Bibliography

Thevenot, Peter A. "An Espalier for Every Garden." espaliertrees.com. From Taunton's Fine Gardening. Dec. 1999. Web. 21 May 2014.

Photographs

Fig. 1,2,3,4,5,6,7,8,9,11,12,13,14 Thevenot, Peter A . N.d. espaliertrees.com. Web. 24 May 2014.
Fig. 16,23,24,25 Thevenot, Beth.

Espalier Illustration Series

. 2003. espaliertrees.com. Web. 24 May 2014.
Fig. 15 Thevenot, Beth.

Espalier Illustration Series

. 2004. espaliertrees.com. Web. 24 May 2014.
Fig. 17,18,19,20 Thevenot, Beth.

Espalier Illustration Series

. 2005. espaliertrees.com. Web. 24 May 2014.
Fig. 22,23 Thevenot, Beth.

Espalier Illustration Series

. 2008. espaliertrees.com. Web. 24 May 2014.
Fig. 26,27,28,29 KVDP.

Espalier fruit tree forms

. 2008. At a fruit treeform-test site near the castle of Gaasbeek.

wikipedia.org

. Web. 22 May 2014.
Fig. 30 Bould, Graham.

Espalier fruit tree at Standen, West Sussex, England. 2006

.

wikipedia.org

. Web. 22 May 2014.
Fig. 31,32 Robitaille, Liette.

Belgian Fence

. 2013.

growables.org

. UBC Botanical Garden. JPEG.file

Published 21 May 2014 LR. Last update 24 May 2014 LR