Back to
Peach Page

Fig. 1

Peach scab on 'UFSun' fruit, showing lesions around where the pedicel was located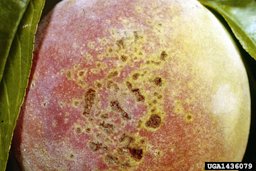 Fig. 12

Bacterial Spot Xanthomonas campestris pv. pruni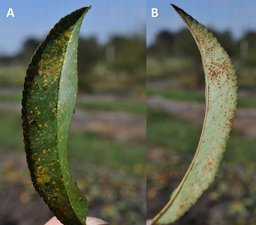 Fig. 16

Peach leaf rust on the top (A) and bottom (B) of a peach leaf. Severe infections result in groups of brown spores on the underside of
the leaf and can cause tree defoliation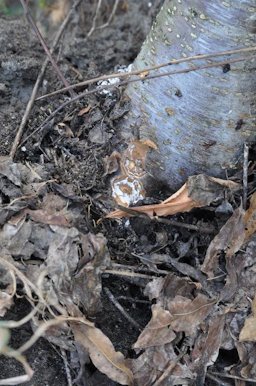 Fig. 19

Mushroom root rot caused by Armillaria spp. in peaches shown with a cut in the bark near the soil line. Notice white hyphae just under the bark before cutting into the wood



Fig. 23

Homalodisca vitripennis, vector of Phony Peach Disease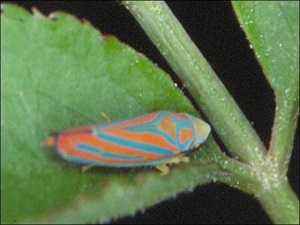 Fig. 24

A leafhopper, Graphocephala sp. that vectors Xylella fastidiosa

Fig. 25

Gummosis symptom on peach trunk

Fig. 26

Bacterial brown spot of bean/canker of stone fruit, twig blight, Pseudomonas syringae pv. syringae van Hall 1902

Fig. 31

Aerial (branch) gall on a peach tree, symptomatic of infection with crown gall (Agrobacterium tumefaciens)

Fig. 35

Portions of peach stems displaying signs of Cytospora canker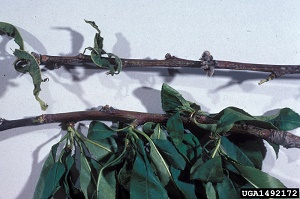 Fig. 39

Phomopsis cankers and twig blights, Phomopsis sp. (Sacc.) Bubák
Peach Scab

(Fig. 1)
Caused by

Cladosporium carpophylium

Peach scab affects peaches and nectarines in all areas of the state, causing small brown spots with a green halo on the fruit skin. Chemical or organic fungicide applications are recommended from fruit set through harvest to control peach scab. However, the earliest peach and nectarine cultivars ripen before lesions are very noticeable. 1

Fig. 2. Cladosporium carpophilum lesions formed on peach twig
Fig. 3. Peach scab lesions on young fruit, showing sunken, dark green, imperfect circles where spores are located

Further Reading
Peach Scab from the University of Florida pdf 6 pages
Scab on Stone Fruits, Cladosporium carpophilum from Kentuky State research and Extension pdf
Peach Scab from the University of Georgia pdf
Disease Profile: Peach Scab on Stone Fruit from Cornell University pdf
---
Brown Rot (Fig. 4)
Caused by Monilinia fruticola (G. Wint.)
Brown rot has not been a very serious problem on early peaches in Central and South Central Florida because of the characteristically dry climate in April and May. The brown rot fungus can infect the flowers, fruit, and shoots of peaches. When it infects flowers,
it is known as blossom blight. Brown spores often show up on fruit and can result in dried and decaying fruit (mummies) on the tree. 1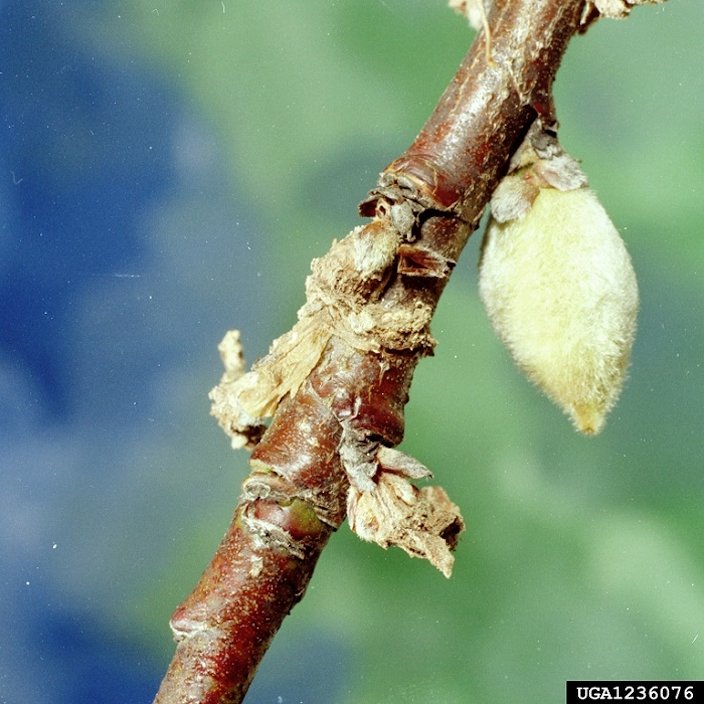 Fig. 11
Fig. 5. Brown rot (Monilinia fructicola) (G. Wint.) Honey. Sporulation on rotted fruit
Fig. 9,10. Fruiting bodies
Further Reading
Brown Rot from the University of Georgia and Clemson University pdf 5 pages
---
Bacterial spot (Fig. 12)
Caused by Xanthomonas arboricola pv. pruni Smith 1903 Vauterin, Hoste, Kerstters & Swings 1995 = Xanthomonas campestris pv. pruni Smith 1903 Dye 1978.
Bacterial spot can be serious on 'Flordaprince' and 'Tropicbeauty' peaches in some years, and it is difficult to control. Growing peach and nectarine varieties with resistance to bacterial spot is the best control measure, and many of the recently released cultivars have good resistance to bacterial spot. Well-fertilized trees are less susceptible to bacterial spot than underfertilized trees. 1
Fig. 13. Bacterial leaf spot on peach
Fig. 14. Bacterial leaf spot on leaves
Fig. 15. Detail of a peach leaf cv. Maria Serena affected with spots
Further Reading
Bacterial Spot from North Carolina State University pdf 5 pages
---
Peach Leaf Rust (Fig. 16)
(Tranzschelia spp.)
Peach leaf rust is of the more serious diseases in Central Florida. Severe defoliation can occur by midsummer in some instances and undoubtedly weakens the trees. Early fall defoliation can result in off-season bloom during fall and winter, which reduces yield the following spring. 1


Further Reading
Peach Rust form the University of Florida pdf 5 pages
Peach Rust Caused by Tranzschelia discolor in California from the University of California and ANR pdf 9 pages
Rust from Clemson University pdf
---
Mushroom Root Rot (Fig. 19)
Caused by Armillaria tabescens and A. mellea
Mushroom root rot is a fungal disease often present in newly cleared areas where oak and hickory were growing. This fungus has high incidences where peaches are planted on old pecan and tung nut land. There is no practical control, other than planting on sites relatively free of decaying oak or other hardwood roots. Rootstocks with good resistance to Armillaria are being developed. A recent release, 'MP-29', is available through major peach nurseries. Symptoms of Armillaria infection include sudden wilting, usually starting about the third year in the orchard. Cutting through the bark at and just below the ground line discloses a thin, white mat of fungal growth between the bark and wood. This white growth may be visible on only one side of the tree or may completely encircle the tree. Fungi may also appear. 1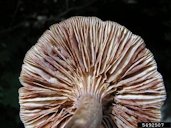 Fig. 22
Fig. 21,22. Parasitic and/or saprobic on hardwood roots. Prolific late summer and early fall mushroom popping up in lawns and on forest floors in tight clusters that share a basal anchor to the ground which connects to hardwood roots underground. Armillaria tabescens synonym. Note insect larvae in gills.
Further Reading
Armillaria Root Rot from the University of Florida pdf 4 pages
Armillaria tabescens from USDA and University of Georgia pdf 4 pages
---
Phony Peach
Caused by the X. fastidiosa bacterium
Phony Peach is a systemic disease caused by a xylem-limited bacterium, Xylella fastidiosa, it occurs in all established peach-growing areas in Florida. It is introduced in nursery stocks, in infected budwood, or from wild hosts. The phony peach bacterium is found in wild plum trees in Florida, but causes no observable damage to these plums. When transmitted to the peach by leafhoppers, it causes tree dwarfing, distorted small fruit, and poor fruit production. Before
planting peaches, remove or kill all wild plums within a quarter mile of the orchard if possible. If peaches or nectarines are being propagated and budded onto rootstock, use T-budding rather than chip budding. Avoid using buds that contain woody material to limit transmission of the xylem-limited bacteria associated with phony peach disease. The acquisition of the X. fastidiosa bacteria appears to have no effect on the insect vector.3
The bacterium X. fastidiosa is spread primarily by a type of leafhopper known as sharpshooters. The major insect vector in the coastal plain of the southeastern U.S. is probably the glassy-winged sharpshooter, Homalodisca vitripennis (Fig. 23), but other xylem-feeding insects including froghoppers and spittlebugs are considered to be potential vectors. Other leafhopper vectors include H. insolita, Oncometopia spp., Graphocephala spp. (Fig. 24) and Draeculacephala spp. 1
Further Reading
Xylella Fastidiosa Diseases and Their Leafhopper Vectors from the University of Florida pdf 6 pages
Phony Peach Disease from the University of Florida pdf 4 pages

---



Fungal Gummosis

(Fig. 25)

Symptoms of fungal gummosis are caused by a physiological race of Botryosphaeria dothidea (Moug.:Fr.) Ces. & De Not. (syn. B. berengeriana De Not., anamorph Fusicoccum aesculi Corda) specific to peach. 3

The disease gets its name from the large amount of gum oozing from diseased tissue. The disease causes a general decline of infected trees and is often confused with mechanical injury, insect borers, and other tree diseases. The earliest symptom appears on young bark as small spots with oozing resin, generally centered on a lenticel. More... pdf
"Flordadawn', Gulfcrimson and Gulfking' cultivars have a high susceptibility to the disease.

Further Reading
Fungal Gummosis in Peach from the University of Florida pdf
Fungal Gummosis from USDA, Agricultural Research Service pdf
Managing Fungal Gummosis on Peach from USDA and University of Georgia pdf 64 pages
---
Bacterial Canker (Fig. 26)
Caused by Pseudomonas syringae pv. syringae van Hall 1902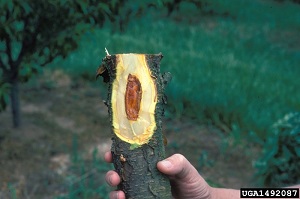 Fig. 30

Fig. 27,28,29. Bacterial canker peeled to show discoloration



Further Reading


Bacterial Canker from North Carolina State University pdf


---
Crown Gall (Fig. 31)
Caused by a soil bacterium Rhizobium radiobacter
(Common name: Agrobacterium tumefaciens)
Fig. 34

Further Reading
Crown Gall from the University of Georgia pdf


---
Cytospora Canker (Fig. 35)
Caused by Leucocytospora cincta (Sacc.) Hohn. (syn. Cytospora cincta Sacc.) and Leucocytospora leucostoma, Sacc. (syn. Cytospora leucostoma Sacc.)
Fig. 38
Further Reading
Cytospora Canker from North Carolina State University pdf 4 pages
---

Peach Tree Short Life
In the southeastern United States, peach tree short life (PTSL) refers to the sudden spring collapse and death of young peach trees. Generally, trees 3 to 7 years old are affected. PTSL is not caused by a single specific factor, but rather by a complex of cold damage and bacterial canker, caused by Pseudomonas syringae pv. syringae, which act together in some years and independently in other years. In any case, the final result is the same (i.e., tree death). 4
Further Reading
Peach Tree Short Life from USDA and University of Georgia pdf 6 pages
---
Phomosis Twig Blight and Fruit Rot (Fig. 39)
Superficially, Phomopsis twig blight can be confused with other causes of twig death (e.g., Cytospora canker), but can be distinguished by close examination of the canker and by laboratory culture. Cytospora spp. and Botrysphaeria spp. often invade cankers and shoots killed by Phomopsisinfection.
There is considerable confusion in the literature concerning the etiology of Phomopsis twig blight and its relationship to several other canker and blight diseases of peach, including constriction canker and fusicoccum canker. However, consensus suggests the three diseases are identical. 5
Further Reading

Phomopsis Twig Blight and Fruit Rot from the University of Arkansas pdf


---
Other Diseases
Diseases Caused by Phytoplasmas from Clemson University pdf 5 pages
Peach Skin Discoloration from Clemson University and University of Georgia pdf 6 pages
Powdery Mildew/Rusty Spot from Clemson University pdf
Peach Leaf Curl from Clemson University pdf
Phytophthora Root and Crown Rot from Clemson University pdf
Split Pit from the University of Georgia pdf
Viruses of Peach from Clemson University pdf 7 pages
---

General Information
Peach Diseases from Clemson University Extension

pdf


Common and Invasive Pests of Stonefruits from the University of Florida, a ProtecUs Presentation pdf 53 pages
Florida Subtropical Peaches: Production Practices from the University of Florida pdf 13 pages Stone Fruit Disease Management from the University of Florida

ext. link