Back to
Muscadine Grape Page
Bunch Grape Page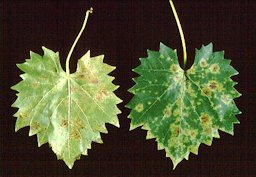 Fig. 1
Angular leaf spot on muscadine grape, caused by the fungus

Mycosphaerella angulata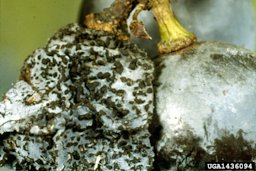 Fig. 2

Bitter Rot caused by

Greeneria uvicola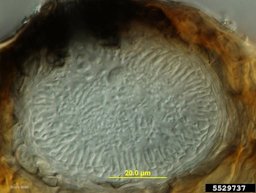 Fig. 5

Fruiting bodies of black rot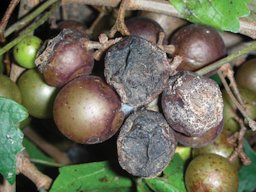 Fig. 11

Berry rot and collapse as a result of ripe rot. Note the pink color of the fungal growth and spores on the surface of several of the berries.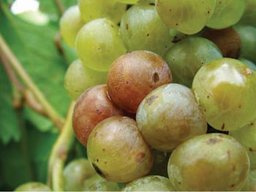 Fig. 12
Symptoms of Macrophoma rot on berries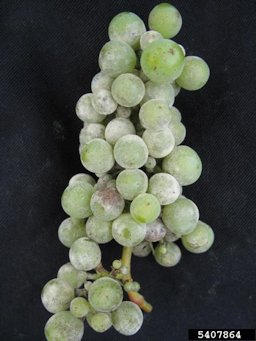 Fig. 13

Berries in a grape bunch covered with the white powdery fungal growth of Uncinula necator (powdery mildew).



The most common diseases on muscadine grape berries and/or leaves are angular leaf spot, black rot, ripe rot, macrophoma rot and powdery mildew. Bitter rot can infect all above ground tissue. 1


---



Angular Leaf Spot




Mycosphaerella angulata



Angular leaf spot (

Mycosphaerella angulata

) is a disease that only attacks the foliage and may cause premature leaf drop. This disease appears as angular, dark brown spots surrounded by a halo. Premature leaf loss can result in increased levels of vine stress that may reduce fruit quality and vine longevity. 1



Further Reading


Resistance of Muscadine Grapes to Angular Leaf Spot in North Florida from Florida A&M Univertity

pdf




---

Bitter Rot
Caused by

Greeneria uvicola



Bitter rot is caused by the fungus Greeneria uvicola. The fungus overwinters in plant debris, canes, and old mummified fruit. During rain events, spores of the fungus are carried from structures called acervuli imbedded in plant tissue. The spores can infect all green portions of the plant. 2
Bitter rot is often confused with black rot; however, the fungus that causes black rot infects immature fruit, while the fungus that causes bitter rot infects mature fruit. 2


Further Reading
Bitter Rot of Grape from the Ohio State University

pdf


Bitter Rot of Grapes from extension.org

pdf




---

Black Rot
Caused by

Guignardia bidwellii



Black rot is mainly a disease of immature berries, young canes and leaves. It is caused by the fungus Guignardia bidwellii. On fruit, black rot appears as dry, black, scabby spots. It can cause mummification and fruit drop. Leaf infection initially appears as light reddish-brown spots that expand to 1/4 inch and turn light brown. Black rot overwinters on infected canes. It is much more of a problem on bunch grapes than on muscadine grapes. 1





Further Reading


Black Rot on Grapes from PennState Extension

pdf 4 pages


Black Rot from Cornell University Extension

pdf


Grape Black Rot from Ohio University Extension

pdf


Black Rot of Grapes from

extension.org

pdf




---

Ripe Rot
Caused by

Glomerella cingulata



Ripe rot is induced by the fungus

Glomerella cingulata

. Ripe rot is a disease of mature berries and spreads very quickly. It is particularly severe on Fry. Spore-producing bodies on the berry skin give infected bronze berries a rusty appearance; this disease is more difficult to spot on red- or black-skinned berries. The berries eventually decay and become mummified. The disease over-winters on mummified berries. 1



Further Reading


Ripe Rot of Grapes from

extension.org

pdf


---



Macrophoma Rot

(Fig. 12)
Caused by

Botryosphaeria dothidea



Macrophoma rot is caused by

Botryosphaeria dothidea

, which is a fungus with an extremely broad host range. It is difficult to control because of its broad host range. Macrophoma rot over-winters on wood of numerous host plants and on the remains of infected berries. When it occurs, it usually appears close to berry maturity. This disease progresses rapidly and is particularly severe on the Fry cultivar. Macrophoma rot begins as a small, light brown spot which becomes water soaked and consumes the entire berry. On certain cultivars this disease is difficult to control. 1



Further Reading


Macrophoma Rot of Grapes from

extension.org

pdf


---



Powdery Mildew

(Fig. 13)
Caused by

Uncinula necator

(Schw.)

Powdery mildew is caused by the fungus

Uncinula necator

(Schw.). It is a rather unmistakable fungus that is identified by an off-white, powdery growth on the plant surface. It strikes in dry, cool to warm weather. It is not a hot-weather disease. On leaves, a powdery mildew infection is seldom serious. On fruit, it may reduce berry size and induce fruit drop. Infected berries may exhibit brown scarring and may crack. Chemical control is normally not warranted. 1



Further Reading


Powdery Mildew of Grapes from extension.org pdf


---



Further Reading


2016 Southeast Regional Bunch Grape Integrated Management Guide

pdf 66 pages


2016 Southeast Regional Muscadine Grape Integrated Management Guide

pdf 35 pages


Fruit Rots of Grape from the University of Kentucky Extension

pdf 7 pages


Identification and Treatment of Fruit Rots and Other Diseases from University of Georgia College of Agricultural and Environmental Sciences

pdf 22 pages



Top

Bibliography

1 Andersen, Peter C., Crocker, Timothy E. and Breman, Jacque. "The Muscadine Grape."

edis.ifas.ufl.edu

. This document is HS763, one of a series of the Horticultural Sciences Department, UF/IFAS Extension. Publication June 2003. Revised Oct. 2013. Web. 28 Nov. 2014.
2 Smith, Damon. "Bitter Rot of Grapes."

articles.extension.org

. Oklahoma State University. Reviewed by Bruce Bordelon, Purdue University and Eric Stafne, Mississippi State University. Web. 11 Aug. 2016.

Photographs

Fig. 1

Angular leaf spot on muscadine grape, caused by the fungus

Mycosphaerella angulata. North Carolina State University, Plant Pathology Extension.

ces.ncsu.edu

. April 2000. Web. 29 Nov. 2014.
Fig. 2,3,4

Symptoms of bitter rot

(Greeneria uvicola) (

Berk. & M.A. Curtis

)

Punithalingam

. 2011. Clemson University. USDA Cooperative Extension Slide Series.

bugwood.org

. Under (CC BY-NC 3.0 US). Web. 11 Aug. 2016.
Fig. 5 Watt, Bruce.

Fruiting Bodies black rot

(Guignardia bidwellii) (

Ellis

)

Viala & Ravaz

. 2015. University of Maine.

bugwood.org

. Under (CC BY-NC 3.0 US). Web. 11 Aug. 2016.
Fig. 6,7,8,9

Symptoms of black rot on grapes

. 2007. University of Georgia Plant Pathology Archive, University of Georgia.

bugwood.org

.. Web. 29 Nov. 2014.
Fig. 10

Symptoms of black rot on grapes

. 2007. Clemson University. USDA Cooperative Extension Slide Series.

bugwood.org

. Web. 29 Nov. 2014
Fig. 11 Sutton, Turner.

Berry rot and collapse as a result of ripe rot. Note the pink color of the fungal growth and spores on the surface of several of the berries.

North Carolina State University. Reviewed by Fritz Westover, Texas AgriLife Extension and Stephen Jordan, University of Wisconsin-Madison.

articles.extension.org

. Web. 11 Aug. 2016.
Fig. 12 Sutton, Turner.

Symptoms of Macrophoma rot on Berries

. N.d. North Carolina State University. Reviewed by Fritz Westover, Texas AgriLife Extension and Stephen Jordan, University of Wisconsin-Madison.

articles.extension.org

. Web. 29 Nov. 2014.
Fig. 13 Sutton, Turner.

Berries in a grape bunch covered with the white powdery fungal growth of Uncinula necator (powdery mildew).

N.d. North Carolina State University. Reviewed by Fritz Westover, Texas AgriLife Extension and Stephen Jordan, University of Wisconsin-Madison.

articles.extension.org

. Web. 29 Nov. 2014.

Published 29 Nov. 2014 LR. Last Update 11 Aug. 2016 LR